Luxury Vinyl Flooring in Longview, TX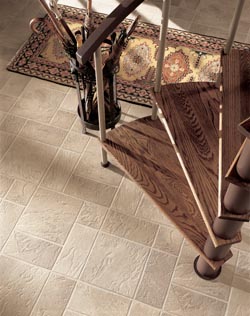 You manage a busy and energetic household. With children and pets in and out, you deserve to have a flooring option that keeps up with your family's busy lifestyle. When you need flooring that lasts, count on luxury vinyl flooring. Combining durable composition and adaptable aesthetic appeal, this option is ideal for homeowners who want flexibility and style in one convenient package. Our showroom features a wealth of resilient flooring that matches your distinct tastes. Learn more about this innovation and fit your home with the latest styles and designs.
Attain a visually pleasing interior that withstands the trials of everyday living. Available in luxury vinyl tile and luxury plank flooring, this option adds strength and sophistication to nearly any room. This flooring is made by stacking different layers of composite material. The top "wear layer" is coated with an impermeable finish. As a result, this flooring resists spills and stains easily, all while remaining soft and pliant enough to withstand bumps and scrapes.
Thanks to the contemporary manufacturing and design process, luxury vinyl tile and planks can take on the appearance of many different flooring materials, such as slate and hardwood. As a result, it strikes a good balance between strength, beauty, and cost-effectiveness. We recommend placing vinyl in the high-traffic areas of your home, such as your kitchen, bathroom, or living room. Of course, you are more than welcome to fit your entire property with this resilient flooring.


Luxury Vinyl Tile Offers Versatility
Express your creativity with luxury vinyl tile. Our design consultants are more than happy to help prepare a layout that gives your interior a personality of its own. When you shop at our showroom, you are free to create patterns that fit your specific tastes. Since this product is available in many different shapes, sizes, colors, and textures, you are free to establish your own visual themes. Attain a classic atmosphere or a modern chic element – our consultants provide the resources you need to make your flooring your own.


Set the Tone with Luxury Plank Flooring
Give your home a traditional aesthetic appeal. Stylish and durable luxury plank flooring is available at our showroom. This versatile option closely resembles many different species of hardwood, such as cherry, oak, and redwood. Combining classic visuals with modern-day convenience, vinyl planks offer strength and beauty in one investment.


The Resilient Flooring Choice
Have confidence in your investment. Luxury vinyl tiles and planks are resilient flooring choices. Thanks to their waterproofing, slip-resistance, and tough construction, this flooring type is ideal for busy households. Best of all, these floors are simple to maintain. Cleanup only requires a vacuum and a damp cloth.


Luxury Vinyl Floor Installation on Your Terms
From start to finish, our flooring store is here to help complete your remodeling project. Our company can help coordinate a luxury vinyl floor installation that works within your schedule. When you hire us for installation services, we send a fully trained team to address your specific design challenges. They work quickly, accurately, and efficiently to ensure you attain results that last. Thanks to our Ultimate Confidence Guarantee, you can rest easy knowing that your installation will be held to high quality standards.



Raise the prestige of your home and contact us today to request an estimate for luxury vinyl tile. We proudly serve customers in Longview, Texas, as well as in Gregg and Harrison counties.