Tile in Longview, TX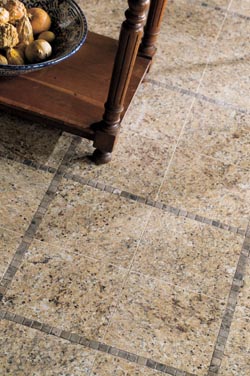 Diversify your interior design options with tile. At our flooring showroom, we provide the resources and support you need to give your home its own distinct personality. Invest in long-lasting tile flooring that is both stylish and durable. Whether you need to place new tile in the kitchen, bathroom, or throughout your entire home, we are here for you. With a staggering variety of flooring types, designs, colors, and patterns available in our showroom, you can have confidence knowing that your project is on the right track.


The Benefits of Tile Flooring
When it comes to strength and creative opportunities, tile flooring is the first choice for many homeowners. Available in a wide variety of materials and sizes, tiles are a strong and dependable material that matches the functionality and beauty of many different rooms. While tile flooring is available in many different types, they all have one thing in common – strength.
Due to the intricate firing and manufacturing process, all tiles are highly dense and are finished in non-porous glazes. As a result, it successfully withstands drops, bumps, and scrapes. In addition, tile resists spills and staining with ease. Cleanup only requires a vacuum and a damp cloth. All in all, tile flooring is ideal for high-traffic areas, as well as homes that have pets. We are proud distributors of:
Ceramic Tile
Porcelain Tile
Slate Tile


Ceramic Tile – the Classic Choice
Give your home a timeless sense of style with ceramic tile. Ceramic is a versatile material due to its strength and adaptability. Our showroom sells a variety of ceramic flooring materials in many different shapes and sizes. Whether you are aiming for a natural look or something trendier, our associates can help you locate the right flooring combinations to achieve the aesthetic you want.


Porcelain Tile – Durable and Dependable
Attain a robust and stain-resistant floor without sacrificing aesthetic appeal. Our showroom offers porcelain tile, which is denser and fired at higher temperatures that make it able to withstand the rigors of daily foot traffic, accidents, scuffs, and spills. Simply put, when toughness is a priority, porcelain is often the preferred choice. Thanks to modern manufacturing methods, this flooring option is available in many different designs and finishes. Options are also available to have it take on the appearance of hardwood, granite, and marble.


Slate Tile – Elegant and All-Natural
Attain a long-lasting interior with slate tile, a highly revered flooring material prized for its longevity and elegant aesthetic appeal. As a natural stone material, it is meant to last. When properly maintained, it can last for decades. Of course, slate flooring's earthy appearance can be adapted to complement the atmosphere of any interior. Many different glazes and finishing techniques give slate different appearances. From non-slip matte to a glossy and shiny look, we provide plenty of options for you to explore.


Tile Flooring Installation on Your Terms
Work with a showroom that helps you through the entire floor remodeling process. Our company provides tile flooring installation services that bring out the true beauty and strength of your investment. We send trained and experienced technicians to your home so you are able to enjoy your new flooring as quickly as possible. On top of responsive service, eligible tile installations are backed by the Ultimate Confidence Guarantee. Enjoy beauty that lasts. Visit our showroom to explore your options today.



Steer your remodeling project in a new direction and contact us today to learn about tile flooring. We proudly serve customers in Longview, Texas, as well as in Gregg and Harrison counties.